Little Wishlist Essential Baby Care: Selecting the Best Baby Car Seat
Buying a child car seat
Wondering which is the best car seat for your baby? Do you know the difference between an i-Size or a group 1/2/3 car seat? In this post, we'll navigate the models, features and sizes to help you choose the safest child's car seat for your little one. 
Is it a legal requirement to use a child car seat?
A baby's car seat is used right from the first car journey home from the hospital. Therefore, choosing the right car seat to suit the child's needs, lifestyle, comfort, and budget are essential. 
Despite this, the car seat market can be confusing. Whilst there are a lot of similarities between car seat manufacturers, it is also a minefield of different features and prices. 
Rest assured, we will take you through the basics to choose a seat that fits your car and is suitable for your baby at each stage of its development.
Under UK law, a child must use a car seat in a car.
Children must remain in a car seat until age 12 or 135cm tall (whichever comes first). However, safety experts still recommend that children use car seats until they are 150cm for extra peace of mind. A child must be rear-facing until they are at least 15 months old.
Moreover, the only time that these laws don't apply is on short unexpected journeys or a taxi or coach.
What is a child's car seat?
Car safety is obviously an important issue. 
Car seats for babies and younger children are designed to transport a child on car journeys. They provide the same safety and comfort as adults rely on airbags, seat belts, and shock absorption equipment.
A car seat is a legal obligation and an investment in a baby's safety. That's why buying a car seat is one of the most significant purchases a parent will make and essential to get it right. 
What size car seat does a baby need?
Car seats are split into several groups based on the weight or height of the child:
Group 0/0+ – newborn to 13kg 
Group 0+/1 – newborn to 18kg  
Group 0+/1/2 – newborn to 25kg 
Group 0+/1/2/3 – newborn to 36kg  
Group 1 – 9kg to 18kg
Group 1/2/3 – 9kg to 36kg
Group 2/3 – 15kg to 36kg 
Group 3 – 22kg to 36kg (from approx. 5 or 6 years and more than 125cm tall)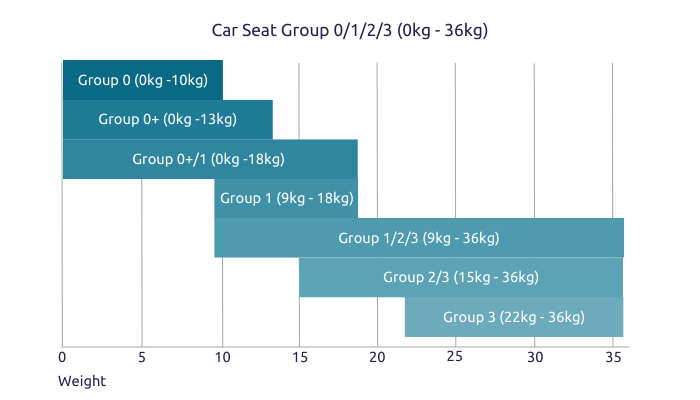 Source: https://www.which.co.uk/reviews/child-car-seats/article/car-seat-weight-groups-aKNNS4n1r8f8
What are the considerations for buying a child's car seat
How easy is it to install in the car and fasten the baby in? These two things will feature every time you use the car seat, so you must be confident in using the model. We will discuss ISOFIX a little later.
How easy is it to clean? A child's car seat is a breeding ground for bacteria; therefore, make sure you choose a car seat that can easily be cleaned. All fabric covers should be removable and machine-washable to extend the item's life.
Is the car seat compatible with your pushchair? Not every car seat can attach to a travel system, so check with manufacturers that adapters exist to allow you to use the car seat as part of your travel system. 
How much does it cost? Car seats can be expensive, so you'll want to pick one that allows for extended use as the child gets bigger and heavier. There are often car seat deals as part of sales or bundles, so it's worth shopping for offers. 
How much does a baby car seat cost
The price of a car seat can vary dramatically. Your car seat may require a connecting base, be used with your pushchair or have additional features that may cost more. Price is important, but it should not be the determining factor when choosing a car seat. 
Ultimately, a car seat is a considered purchase, and a child's safety should never be compromised. That's why you should never buy a second-hand car seat, as you can't guarantee its condition or performance in the event of an accident. 
What is ISOFIX?
​​ISOFIX is a safety system built on connection points rather than securing car seats with a seatbelt. 
Therefore, ISOFIX reduces the risk of car seats fitting incorrectly or wrongly, offering reassurance to the driver.
For group 0+ portable car seats, an ISOFIX base allows the parent to carry and 'click' the removable piece easily and quickly. You fastened your baby into the seat using the snug, inbuilt harness system.
For older children, i-Size car seats tend to use ISOFIX connectors for extra security. 
Which car seat will fit my car?
The million-dollar question! Not all car seats are the same size, and compatibility varies by manufacturer. 
If you are unsure or have specific requirements for your car, seek professional advice from retailers. Many will also offer face-to-face demonstrations and free fitting too.
Which car seat is the best?
This is a very subjective question. What may be best for one family may not suit another.
When choosing a car seat for your child, you need to consider your budget, how you intend to use it, and the child's growth and longevity of use. 
The portable one
For convenience, a group 0+ car seat is an excellent portable choice. These car seats are usually secured with an ISOFIX base and will fit most pushchairs using adapters. The Maxi-Cosi CabrioFix Car Seat has been popular for almost ten years because of its lightweight and compact design. It allows the parent to transfer the baby from the car to the house or pushchair without disturbing them.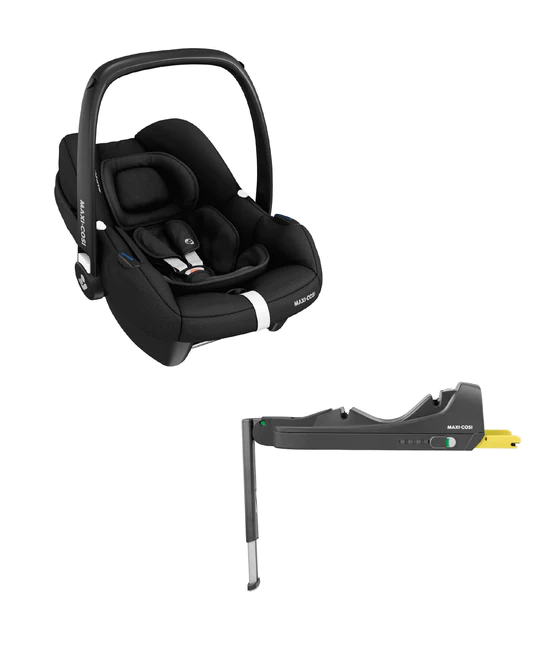 The value for money approach
If cost is crucial, you may not want to buy a removable car seat that the baby will outgrow within the first few years. A group 0+/1/2/3 car seat will last from birth up to 36kg, meaning that you won't need to replace the car seat due to the child's growth. The Joie Baby Every Stage Group 0+/1/2/3 car seat provides comfort and reliability and means that you do not need to worry about changing the car seat later down the line.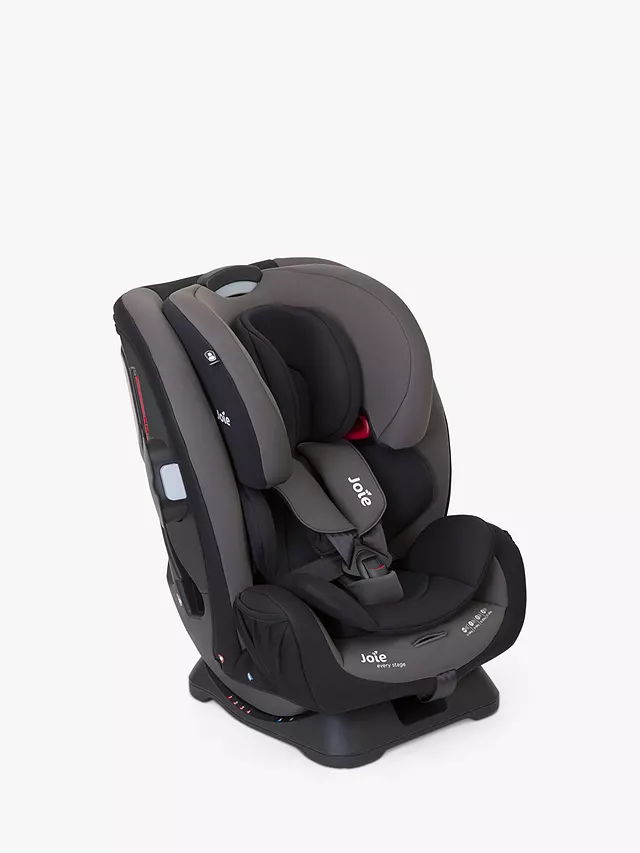 The innovative one
CYBEX is a brand that pushes the boundaries of car seat technology for design-focused parents. The fabrics offer a touch of luxury and designs are continually innovative. The German brand has become well-known for unique features that challenge the norm of car seat design. If innovation is your priority, take a look at Cybex Solution G i-Fix Children's Car Seat.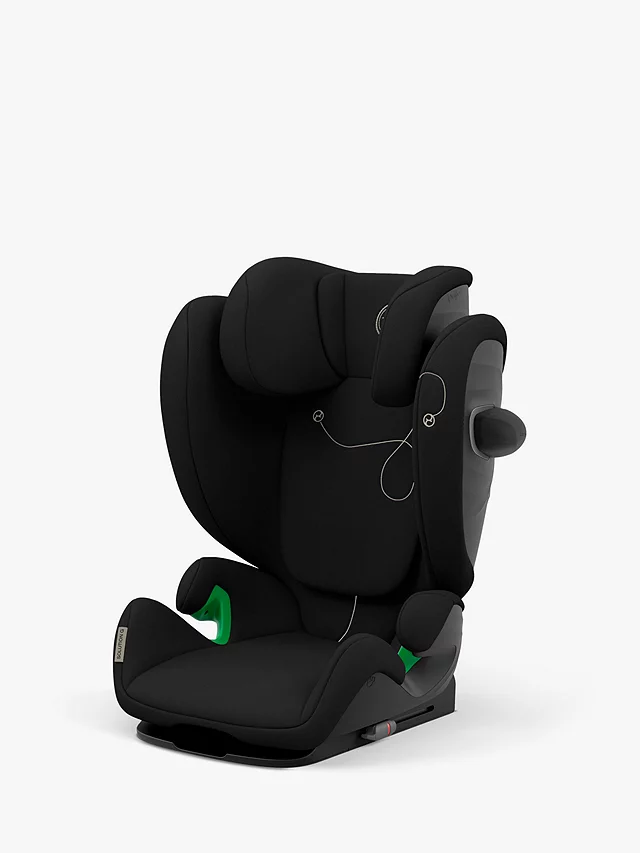 The space saver
If space is an issue, or you regularly use public transport, the Doona car seat transforms into a stroller within seconds. For urban or city living, this is an excellent option for families.
Here's a handy comparison table to help you decide which type of car seat is best for you.